It was a dark midnight hour and I was barely tethered to sanity. Struggling to hold a double pump in place while wrangling with a screaming newborn, trying not to bump my fresh cesarean incision, and easing a confused toddler back to bed, I trod through the motions of early motherhood with a wild desperation. I was in over my head: barely mobile after my third C-section, trying to keep on top of homeschooling, and pulling long hours of solo childcare. When my tiny third born struggled to gain weight, I began exclusively pumping, and motherhood became an all-out battle just to make it through the day.
I needed help. And with the Elvie wireless double breast pump, I was rescued. Here's my Elvie pump review and why I loved using the pump for my son.
The Elvie Pump: A Champion of Maternal Mental Health
The Elvie is a cordless, hands free, wearable double electric breast pump. You simply charge it up, assemble it, slide it right into your nursing bra, and start pumping. The Elvie gives you the freedom to walk around, hold your baby, go to the bathroom, brush your teeth, or do whatever else you need to do while you pump. It's honestly as miraculous as it sounds.
Rise of the Robo-Boobs: Daily Use of the Elvie Breast Pump
If you plan on using the Elvie pump regularly, you'll want to know how it works on a daily basis, right? So let's break it down. First of all, the Elvie is an all-in-one unit. The pump, breast shield, and milk storage are all discreetly housed in one singular unit that fits directly into your bra, so it's a wearable pump. Since it tucks into a bra, you'll look a bit more well-endowed when donning the Elvie pump. You'll also be able to see tiny lights that indicate the pump is on, and you'll be able to hear the quiet noises of your milk expressing. If you don't want to prompt curiosity about whether or not you have robo-boobs, throwing on a scarf will conceal anything that would indicate you are currently pumping.
The pumping sensation itself will feel a little different than a traditional pump. You will need to wear a nursing bra that's roomy enough to fit a couple extra inches but snug enough to keep the pump close to your breast. The Elvie comes with snap-on bra strap extenders that make the process significantly less complicated—you can use a well-fitting bra you already own and snap the strap extenders on when you pump. You can't nurse lying down like you can with the Willow pump, but with three kids, I rarely had the luxury of taking a nap anyway. It was far more practical for me to pump and get other tasks done around the house.
The Elvie allowed me to be more present when I often felt overwhelmed throughout my difficult postpartum recovery. No longer did I have to retreat to an upstairs chair when a family member or friend visited to help. Instead, I could pump in front of them without having my boobs out and making things awkward. I could cuddle my baby while pumping. I could prevent my toddler from drawing on the walls while pumping. I could continue to live my life, and get things done, all while pumping.
Breast Pump, Assemble! Get to Know Your Elvie Pump Parts
The Elvie double pump consists of the following three main parts:
Two electronic, Bluetooth-compatible hubs, which are essentially the "shell" of the pump.
Two sizes of plastic breast shields, which fit over your nipples and breasts (and a note here: make sure you get the correct size breast shield and flange, because this is essential for pumping success! If you have questions, call Elvie's customer service, because they are awesome with helping with this.).
Two plastic milk storage containers to express milk into.
The plastic parts that comprise the breast shields and bottles are also accompanied by small rubber parts that fit onto the plastic components to ensure effective suction. The plastic parts click right into the hubs for fast, easy assembly and are dishwasher-safe. The hubs have buttons on the front that you can click to adjust the pump intensity or power on and off.
When the pump first arrived, I was a bit intimidated by the many pieces. It requires assembly each time you use the pump, and there is definitely a learning curve for putting it together properly. If even one piece isn't properly adjusted, the pump would suction effectively and you'll need to take it off, disassemble it, and move the pieces back into place. Admittedly, this could get a bit annoying and time-consuming at first when you are trying to figure out all of the pieces. But once you get used to it, it really does become second nature.
To charge the Elvie, simply connect the micro-USB cords to the pump and a charging port. It takes around 2 hours for the pump to fully charge, and a charge lasts between two to three hours, depending on the intensity setting you use. I always kept my hubs plugged in while not in use, so they were ready to go when I needed them.
Transferring your breast milk into a milk freezer bag or bottle is incredibly easy—you just detach the bottom container, remove the green cap, and the top has a built-in pour spout so you don't lose a precious drop. Genius.
Pumping Through the Phone: Using the Elvie App
The Elvie is Bluetooth-enabled, making it easy to use your phone to operate the pump. The Elvie app lets you start and stop the pump, as well as being able to move from stimulation to expression modes, and adjust the pump's intensity across seven levels of suction. It tracks the duration of your pumping session and reports milk volume amounts for each hub, and it keeps a record of everything so you can easily look over your pumping history. All of the firmware needs to be updated using the Bluetooth capabilities and the app will prompt you to update your hubs as needed.
In the early days of feeding, I relied heavily on the app because every drop of milk was precious for my newborn who struggled to gain weight. I used the app to track how long I pumped and how much milk volume I had per session, information that helped me make informed decisions about my baby's feeding. I found the timer and tracking to be supremely helpful since I aimed to keep my sessions around 15 minutes every three hours, but there were times milk volume output was often incorrect. If tracking milk volume in the app is super important to you, there are some tips you can employ from Elvie, such as ensuring you have a dark bra on for contrast and regularly updating the app. And if you're worried about privacy, according to Elvie's privacy policy, all of your data is kept private and encrypted and is not sold for any use.
One Con: Complicated Cleanup
One of the biggest drawbacks of exclusive pumping in general is the cleaning time involved and sadly, the Elvie doesn't do much to combat that complaint. Its many pieces can be a hassle to clean. All of the parts have to be totally dry before they are used again or they will not function properly with the hub, which will result in some painful pinching or extra use of time while you resolve the issues. I often found myself adding cleaning time to the time of the pumping session.
Overall Verdict: A Long-Overdue Convenience for Modern Moms
I can't put a price tag on what the Elvie breast pump did for my postpartum mental health. Just being able to cook dinner while pumping, or the freedom to sit with my family while they watched a move made a huge difference in my mood while I was exclusively pumping. I truly believe that the stress-relief the Elvie provided me is one of the reasons I was able to manage those early days and, eventually, get my tiny baby to finally latch properly.
The Elvie pump is a true accomplishment for modern motherhood. It enables lactating women to express milk without confinement and isolation, and champions women as they achieve their breastfeeding goals amid the numerous challenges of motherhood. For mothers whose babies or schedules present challenges to their breastfeeding journeys, the Elvie pump can provide much needed (and let's face it, long-overdue!) freedom for families to nurture their babies without being tied down
.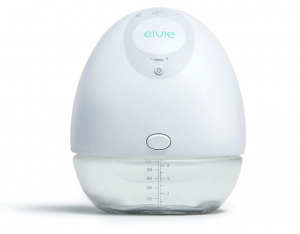 Frequently Asked Questions
Is the Elvie pump worth it?
It depends on your nursing and pumping goals. For many mothers, the ease of being able to express milk discreetly at work or home without being confined to the cords of a traditional pump is well worth the price tag. For moms who exclusively nurse without issue, you might not use it enough to make it worth the price.
Is the Elvie pump covered by insurance?
You can check with your own insurance to see if it will cover the Elvie. Some insurances may not outright cover the cost of the Elvie, but may offer a partial reimbursement. The Elvie is also HSA and FSA eligible.
Is the Willow or Elvie better?